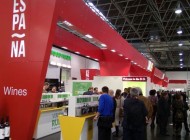 DATE: 19-21 March 2017
PLACE: Düsseldorf (Germany)
Very much in line with its slogan "To Another Great Year" ProWein from 19 to 21 March 2017 is setting new standards. Specialists in the international wine and spirits sector will be met by more than 6,300 exhibitors from 60 nations, including all relevant winegrowing regions of the world – a total of 295 – plus a selection of some 400 spirits specialities.
In this Fair the D.O. Rueda will have a small tunnel of tasting that allows to expose the references of the wineries that are inscribed in this promotional action. In addition, it will be contacted in advance with professionals from the main markets to streamline the influx of public to the D.O. Rueda. stand.
In addition, we will have a seminar of D.O.Rueda at the ICEX Stand (Sunday March 19 at 16:30) and another at the Meininger booth (date and time still to be determined) where we will present the region and offer a representative selection of the variety of wines produced in the D.O.Rueda.
This year the CRDO Rueda will sponsor the gala ceremony offered by Meininger "Excellence in Wine & Spirit Meininger Award" on Saturday 18 March from 6.30 pm at the InterContinental Hotel in Düsseldorf. It is a meeting point of the sector, where several prizes of the wine world are presented and attended by approximately 600 professionals (importers, sommeliers, press, etc.). There, will be presented a variety of 30 wines of the D.O. Rueda with the goal of improving notoriety and prestige, and build brand image. In addition will try to attract more people to the stand of the D.O. Rueda in the later days of the fair.